Boardroom Tables
Conference room tables with different shapes for different goals
With a great choice of meeting room tables and boardroom tables, we can deliver flexibility for both style and budget. Our range of conference room tables includes a wide variety of styles and finishes to suit any workplace.
At BT Office Furniture, we can offer you anything from a single conference room table or a whole office refit. Our office space planning service can help you design your whole office at the design stage. We can supply, deliver and install – making any office re-fit simple.
Choosing a Conference Room Table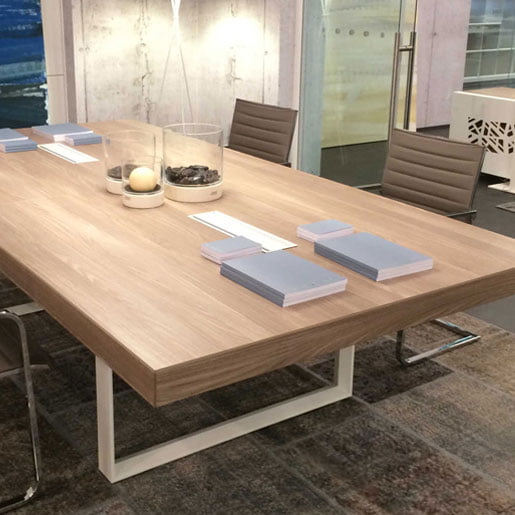 Boardroom furniture is quite often one of the biggest expenses when fitting out a new office and it is important that you get it right. Naturally you will want to create a comfortable and professional environment for your employees, but also reflect the nature of your business to potential partners or clients.
These are the main things you will need to consider when choosing your tables:
There are 3 main types of table:
Meeting Tables – (tall meeting tables are also available for use with stools rather than chairs)
Conference Tables
Boardroom Tables
Boardroom Table Type
TABLE SHAPES
You don't have to choose the traditional square table you know. There are many different options to suit the look and style of meeting room table that you require. Have you thought about Oval, Bow, Dual Curve or Elliptical table tops? Our range will have something to suit your office!
TABLE LEGS
Table legs are generally available in wood, aluminium frame or steel with silver, white, polished and chrome finishes. There are so many options for conference table legs, not just the material but the shape.
MEETING ROOM TABLE BASES
There are five main types of bases for meeting rooms tables:
Cantilever: Tables with a cantilever leg frame will usually need either a connecting vertical wood panel or central metal beam in order to provide extra support. Although cantilever legs provide a greater amount of leg room, the central support needed can cause issues if power or date is required in the centre of the table as this will clash with the support panel or beam.
Pedestal: A pedestal leg is essentially a rectangular or square box leg. Sometimes the box leg will have an door or removable panel to provide access to power or data cables.
Legs: A meeting room table with legs in each corner may also have recessed legs in the centre or where two tops join. The legs can be wood or metal depending on the design and either straight, angled or tapered.
Drum Base: A drum base is usually used on a circular table. The circular drum is located centrally to provide leg room around the entire circumference of the table. The drum base can also be used on rectangular tables but is more suited to circular or oval tables.
Pillar Base: The pillar or trumpet style base usually consist of a vertical pole that connects to a flat base on the floor. The base is usually circular or square and this style of leg can be used on any shape of meeting room table. This style of leg provides excellent leg room around the entire meeting table.
BOARDROOM TABLE STYLES
You don't have to settle for boring any more. Here are the five main styles of tables we offer:
Traditional
Contemporary
Wood
Glass
Wood / Glass Combination
Choosing Chairs to Match Meeting Tables
There are several styles and finishes of meeting chairs to compliment your meeting room table. Chrome frame cantilever or four leg chairs compliment a meeting room table with a chrome trumpet, pillar or post leg. Wood frame cantilever or four leg chairs complement a more traditional meeting table with a drum or pedestal base. Meeting chairs on swivel bases often have a memory return base which will return the chair to face the table when vacated. The finish and style of the upholstery is a very important factor when choosing  – a mesh back chair lends itself to a more modern style and finish of table, whilst also providing a supportive back rest that allows heat to escape through the back rest to improve comfort during longer meetings. Leather, although traditionally used for meeting chairs, does get warm over a sustained period of use, which should be taken into account for meeting rooms without air conditioning. Most of our chairs can be upholstered in a large selection of fabrics to suit modern or traditional meeting rooms.
OFFICE TABLE SIZES
Dimensions:
As a general rule, meeting room tables are smaller than boardroom tables and conference tables. We have tables available in many different dimensions to seat anything from 4-24 people (or more). If you are not sure what size table you will need, please call us.
If you need a flexible system you may want to consider modular boardroom tables. They can be configured to suit small or large groups of people. An opening in the middle of modular boardroom tables provides smart power, data and cable management solutions. If you are unsure about how to proceed or if any of this information is unclear, please contact us and we will be glad to help.