Create an environment that promotes innovation, teamwork, and creativity with our collection of collaborative office furniture. In today's dynamic world, traditional office setups are evolving to embrace the power of communication and shared ideas. Whether you're designing a startup hub, a modern corporate workspace, or a versatile home office, our range of thoughtfully crafted furniture can elevate your collaborative endeavours.
Why Choose Collaborative Furniture?
Collaboration lies at the heart of success. From brainstorming sessions that spark groundbreaking concepts to meetings that bring diverse perspectives to the table, the way we work together defines the future of business. Our collaborative workspace furniture is designed to transform static environments into interactive spaces that fuel productivity and engagement.
Collaborative Office Tables
From round tables that encourage inclusive discussions to modular tables that adapt to your changing needs, our range of collaborative office tables offers a perfect balance between functionality and aesthetics. We provide a wide collection of tables suitable for everything from creative workspaces to breakrooms and waiting areas, as well as high table varieties.
Collaborative Office Desks
Our ergonomic and space-efficient desks are tailored to encourage collaboration while providing individual comfort. Crafted with versatile designs, integrated technology solutions, and configurable layouts, these desks empower your teams to work together effortlessly.
Collaborative Seating
Create inviting spaces with our array of collaborative seating solutions. From lounge-style sofa seating for relaxed conversations to versatile modular seating for dynamic arrangements, our options cater to various collaborative scenarios.
Planning Your Collaborative Workspace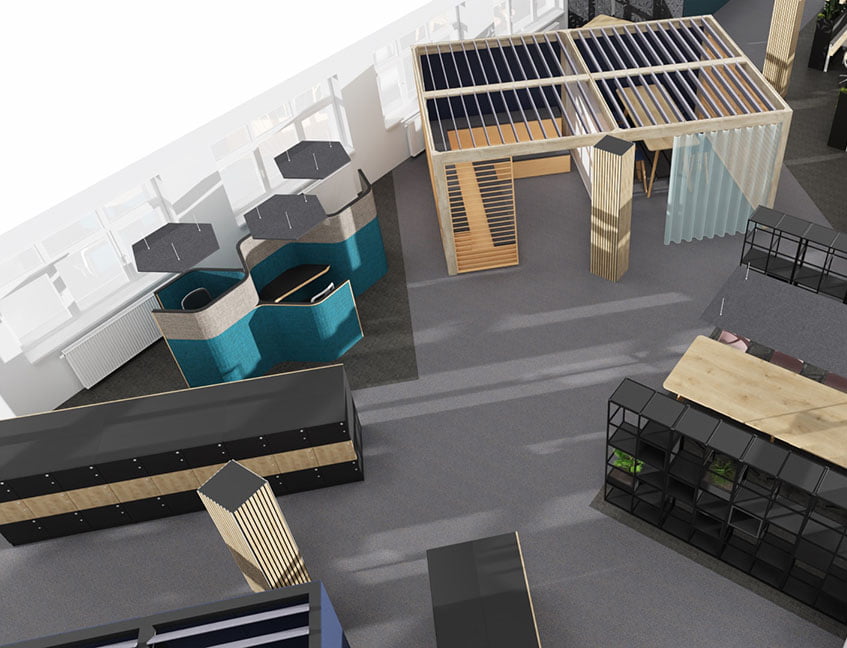 At BT Office Furniture, we believe in empowering you to create a workspace that reflects your company's culture and goals. Our expert team is dedicated to helping you curate a collaborative office environment that inspires creativity and enhances productivity. We provide personalised office space planning to assist you in selecting the perfect furniture pieces and arranging them to optimise your workspace's potential.
Looking for inspiration? Take a look at some of our office space planning case studies!
Discover our full collection of collaborative workspace furniture below and begin transforming your office into a creative hub. If you're unsure what you're looking for, don't hesitate to get in touch with one of our friendly experts. We're available over the phone at 0800 298 7033 or by emailing sales@btoffice.co.uk. You can also head down to any of our showrooms around the UK – just pop in to get first-hand professional advice!