Library Furniture Glossary: Different Types of Library Furniture you Need
Looking for library furniture can be confusing even for the initiated. It can be difficult to know what shelves and storage you need and how many different options there are.
Our handy library furniture glossary guide will help you to visualise what different types of shelving you can offer your library to help no only make the space feel tidy, but also easy to use and file away books and papers, showcase book covers (especially for children), and help your library to function more efficiently as a result.
Double-Sided Bookcases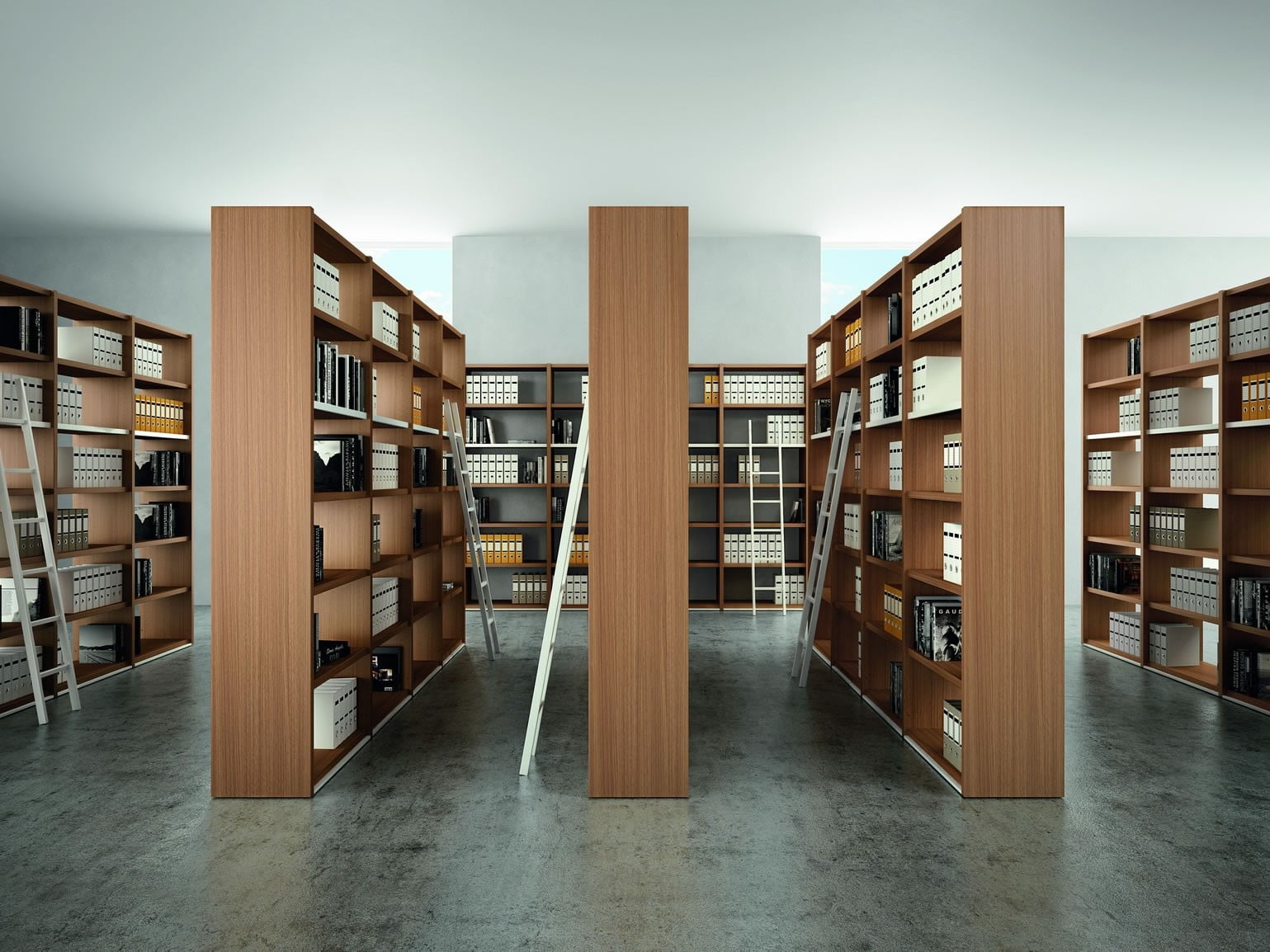 The bookcase shown in the image is a 4-column 6-shelf library unit with a ladder. Both the back and front have been finished so that the bookcase can be used from both sides. This sort of bookcase is perfect for libraries, schools, colleges and the workplace.
Brilliant for saving precious space and keeping air flow around the room. It can be used as shown with open bookshelves, or alternatively optional wood or glass doors can be added. A selection of different finishes are available including walnut, cherry and wenge.
Low Library Bookshelves
Low height bookshelves similar to the unit shown in the image provide easy access to books for those with disabilities or children. Or to add visibility in front of a reception desk to to let the light stream in in front of a window.
This particular bookshelf is set on wheels and therefore allows greater library layout flexibility. It's also an open bookcase so books can be accessed from both sides, saving valuable space.
Additionally, the end panels of this unit are recessed so that books can be displayed. This is ideal if you are running a promotion or want to highlight particular titles or topics.
Book Displays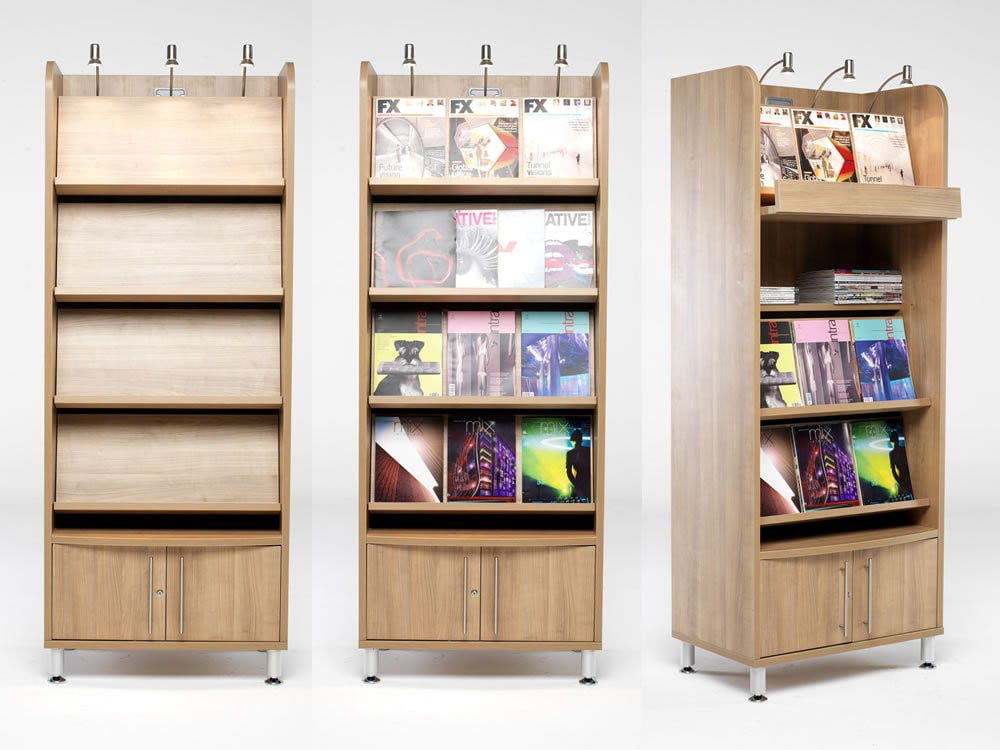 Book displays are a great way to show off individual titles and make them easily accessible.
Most of our ranges have height adjustable shelves which means that you could potentially cross promote DVDs or CDs to accompany associated book ranges.
Alternatively, you could put a rotating DVD/CD display unit in place of the computer monitor in this image.
Book displays are also ideal for information points such as visitor centres and reception areas.
Children's Library Furniture
We have a wide range of book displays, bookcases, seating and tables that fit perfectly for schools, bookshops or other children's library areas.
Naturally the furniture has a lower overall height to provide easy access to books for little people!
Funky seating can also be added to help create the perfect kid's environment, conducive to reading and learning.
Colourful book displays further complement your children's library area.
Breakout Areas
Some libraries and book stores have designated breakout areas. These are areas specifically designed to allow users to sit and read or study informally.
The example shown in this image portrays an ultra-modern and stylish configuration. However, we also have a large range of more conventional furniture for a more classic look and feel.
In addition to our table ranges we have a massive selection of breakout seating options including reproduction chairs, stools, modular seating, tub chairs and sofas.
Reception Furniture
For libraries, schools and colleges, you might also need to include a reception area.
We have an extensive range of wood and glass desks or wood/glass combinations of reception furniture to choose from too.
Some of our reception desks also have integral lighting systems and a wide variety of different finish and styling options.