What Is An Office Reception?
The office reception is one of the most important spaces in your office. It's usually located by the entrance and is where you tend to greet your clients or potential employees for the first time.
With that in mind, an office reception offers a great opportunity for your visitors to learn more about your company's background and culture. This space says a lot about you and influences how your visitors will interact with your business.
It should be no surprise then that your reception furniture is key. After all, you only get one chance to make a first impression. Fortunately, our team of experts are on hand to talk you through choosing the right reception furniture for your office.
The Reception Desk
Arguably the most important piece of reception area furniture is the reception desk. This will often be the focal point of your entrance, yet it also needs to serve as a practical and efficient workspace.
Any reception desk should have plenty of hidden storage, and the work surface itself should be kept clean and uncluttered. This is particularly important because a disorganised reception desk will give visitors the impression that your business operates in the same way.
A contemporary reception unit is usually simple in design, using modern materials and bright colours. This helps to make a lasting first impression that reflects your business. A traditional style might feature woodgrain colours which are common in most business reception areas.
How To Choose A Reception Desk?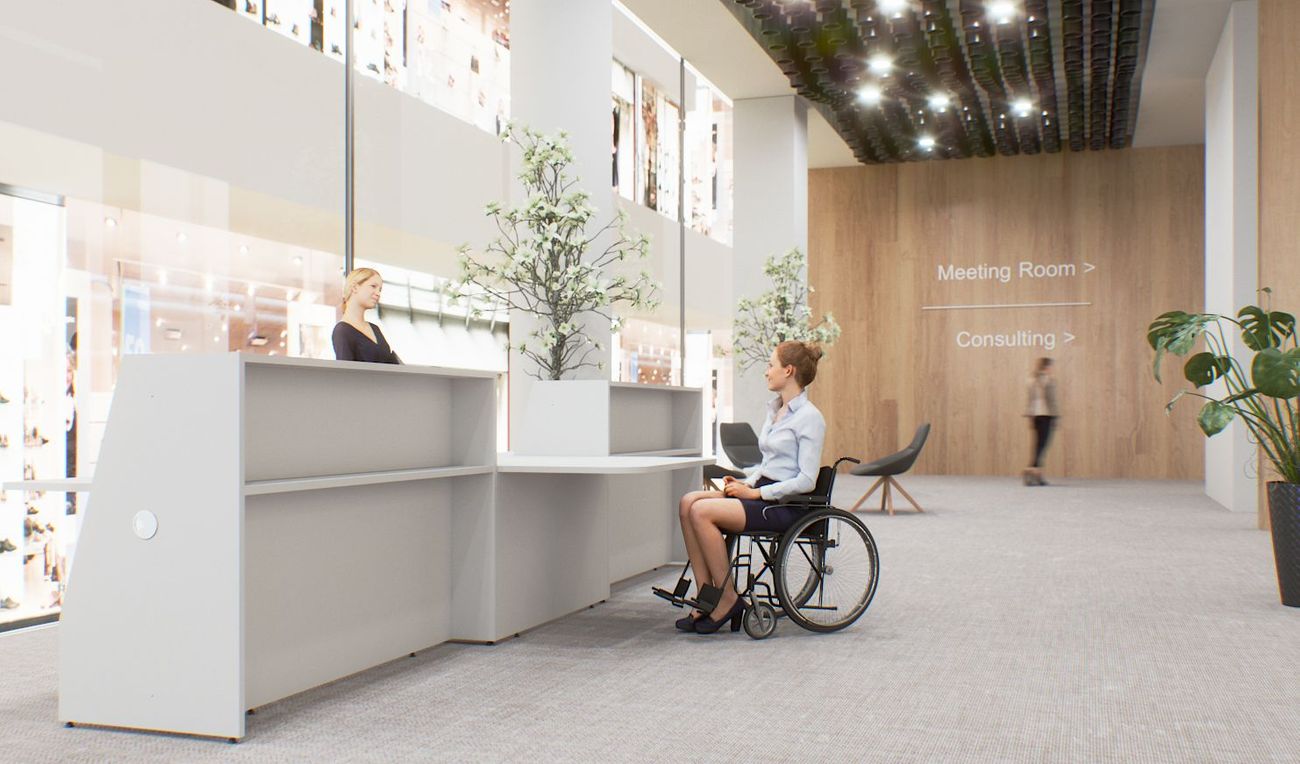 When it comes to receptions desks, there are no standard sizes, shapes or designs. After all, each business's reception area furniture should be unique.
The important questions to ask are:
Will the reception desk be manned? If so, by how many staff?
What equipment will need to be used? For example, does it need to include space for a telephone, computer, CCTV, door entry system equipment etc.
Are there any particular storage requirements?
Does the desk need to comply with the DDA? (Disabled Discrimination Act)?
How much of a concern is security? For example, does the desk need to be enclosed or the staff member protected?
Straight or curved design?
Modern, contemporary or traditional design?
Is LED lighting required?
Would you like to incorporate your company logo, welcome message or signage?
What is your business? The impression you want your reception desk to make will depend on your business, and this will dictate the type of reception furniture you choose.
Regarding size, choose a front desk that is proportional to your reception area. If you have a small space, get a small desk. If you have a large space, get a large desk. If you have a large space with high ceilings, get an appropriately sized reception desk to take full advantage.
Finally, you should place your desk facing the front door. That said, don't put it too close as this could create an unnecessary barrier.
The Waiting Area
The waiting area is another key consideration when it comes to choosing the right office reception furniture. Most important of all is the waiting area seating.
It's crucial to invest in waiting room seating that is both comfortable and functional, as this will put your visitors at ease. Also think about where to locate the seats and the maximum number of seats that might be needed.
Media Walls
By media walls, we mean a wall of storage units that are built into the structure of the office, and they tend to incorporate a TV, video conferencing system or similar. While these types of design are usually found in meeting rooms and boardrooms, they can be a great addition to your reception area furniture too.
For a reception, the TV would usually be playing a promotional video relating to your company, or possibly a news channel.
Other Accessories
Finally, don't forget to think about finishing touches. These can make a surprisingly big difference to the atmosphere of your reception.
One idea is to introduce plants to your office reception furniture. Plants generate a natural sense of calm and can make an office feel more alive.
Another consideration to add life and character is a coffee table with your waiting area seating. This can then be covered with reading materials, or even a selection of beverages. All these important features will give your visitors a great first impression and help them to feel more comfortable.
BT Office Furniture
There are many things to consider when designing your office reception. Here at BT Office, you will find reception desks and other reception furniture in a variety of ranges, sizes, colours and styles. Whatever your budget, we are sure we will have something to suit.
For further information on any of our products or services, call a friendly member of our experienced sales team on  0800 298 7033, or email [email protected]