10 Funky Office Furniture products for office WOW factor!
We have created this article to highlight 10 examples of 'Funky Office Furniture', all of which can be found on our website. Let's have a look.
Funky Office Chairs

Interested in something that's a little different? Our selection of Funky Office Chairs offers vibrant colours and contemporary designs for original office seating that will make for a lasting impression.
Our range of funky office chairs includes some colourful, irregular, and fun office furniture from across our ranges. Funky office furniture can be exciting for both employees and visitors, creating a sense of playfulness, without detracting from the job at hand.
The Coza task chair, for example, provides extraordinary comfort and dynamic support by using the natural flexibility of a single ribbon of material. Coza fulfils the increasing need for ergonomically sound meeting chairs and provides a task chair that offers a high level of comfort without the need for manual adjustment.
The Coza is great, and we have other great looking, modern and funky office chairs here
Funky High Back Acoustic Seating
Another beautiful example of Funky Office Furniture is Muse High Back Acoustic Seating. Muse is a privacy booth that allows the user to escape the distractions of an open plan space. The enclosed high back booth creates a secluded space by reducing peripheral vision and buffering external noise distractions. In addition to this, it provides a perfect place of refuge in a range of public areas, including open plan offices, airport lounges, waiting areas and hotel lobbies. Muse is available in a metal or solid oak frame.
See our full range of High Back Acoustic Seating
Funky Office Desks
Evolution is a particularly quirky desk. Offering all the functionality of a traditional desk with the added choice of Oak or painted RAL finish legs. Fixed desktops, a complete cable management solution and a selection of 3 desktop shapes provide the functionality, whilst the Oak or selection of 21 RAL colours offer, the flexibility to complement any colour scheme. Matching Storage is also available.
Cluster Pods
Our Bee Cluster Pods are perfect for creating focused work areas within your work place. Choose from 2,3 or 4 person pod arrangements, and two different pod heights. Bee Custer Pods are ideal for hot desking, private work assignments and maintaining a quiet space shielded from the busy office. You can specify one or two colour fabric pod upholstery, to suit your office decor, company colours, or tailor to your own personal tastes.
See our full range of Office Desks
Quirky Office Seating
Another great example of quirky Office Seating, Cega is high back acoustic seating that can reduce external noise. It is symmetrical in from, which means varied advanced acoustic qualities are achieved. In addition to this, the open top structure allows for the correct level of ambient light to pass through. The seating also has a 360 degree swivel unit for enhanced privacy, making Cega an ideal product in the modern working environment.
Coppice Work Booth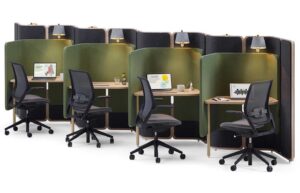 Coppice is a stand-alone, single occupancy work booth that provides a high level of acoustic comfort, increasing the productivity of those doing focused work tasks. Where work requires high levels of concentration and focus, Coppice is the ideal solution, offering differently configured personal booths designed to combat noise distractions in the open-plan workplace.
Check out our other great looking work booths for your office.
Enable Working Table
Enable Table and Benches are part of a bold and contemporary collection of furniture designed to make a real impact. Presenting a multitude layout options, the range of tables, stools will enable you to create a dynamic, collaborative area for the modern trend of agile working, providing an inspirational and welcoming work area which is fully customisable with power and data, lighting, plant life and much more.
Take a look at our full working table range.
Quirky Office Lounge Chairs
The Dixi range of office lounge chairs combines striking design with the need to achieve privacy in open areas. The high back chair offers all-round privacy, and the winged back design provides a secluded, reduced noise environment, without affecting the user's visual privacy. Matching office coffee tables are also available. All chairs are available in a wide variety of fabrics. Multiple base options, including fixed, swivel, cage and wood are also available.
View our quirky Office Lounge Chairs today!
Funky Office
Campers&Dens is the updated answer to Why Build Walls?, delivering layers of privacy through pods, cabins and awnings, as well as flexibility and choice, thanks to its wide range of configurations.
Campers&Dens is not just a pod system, it's a game changer in built environment interior architecture. A unique, demountable system that can be moved, re-positioned or re-used to suit changing needs.
See our full range of Office Pods
Social Room Office Pods
The Social Rooms Office Pod is part of a range specifically aimed at creating a sense of place. Rooms needs no planning permission and has no fixed walls, thanks to its flexible and reconfigurable free-standing structure. Designed to create both informal and formal workspace solutions to meet, socialise, focus and collaborate, Rooms also provides visual and acoustic privacy. Rooms are available with a variety of walls, in order to create spaces with endless functionality. These include: acoustic, whiteboard, upholstered, glass, and Venetian trellis walls. Optional acoustic ceiling baffles are also available.
Choose one of our Freestanding Social Room Structures and transform your office look.
BT Office Furniture
Naturally we have many more options of Funky Office Furniture at BT Office. So if you are looking for something a little out of the ordinary for your office environment, or have any question, please don't hesitate to e-mail us at: [email protected] or call now on 0800 298 70300 and one of our experienced sales staff will be happy to help you.